The collection 2019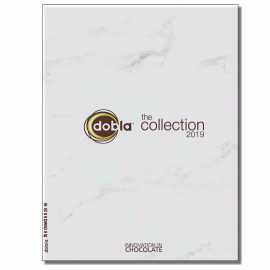 Last year, Dobla introduced its Nature range, a collection of
handmade chocolate decorations inspired by nature. This year, we
extend this successful range with more unique Nature products,
which are as beautiful and imperfect as nature itself. These pieces of
art offer the finishing touch for any pastry, dessert and other sweet
delicacy.
Turning nature's beauties into sweet pieces of art.
Chocolate cocoa bean cup & lid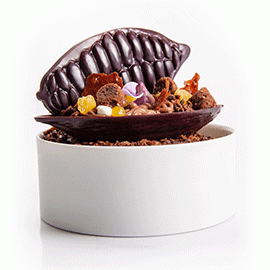 "Brownies" make a fabulous base for any chocolate inspired
dessert. Whether you layer ice cream, puddings, mousse or
custard on brownies for a dessert, they will all be delicious
and decadent. Maurits van der Vooren combined brownies,
chocolate mousse and more with our new Chocolate cocoa
pod cup and Chocolate cocoa pod lid into an indulging dessert.
Chocolate lemon cup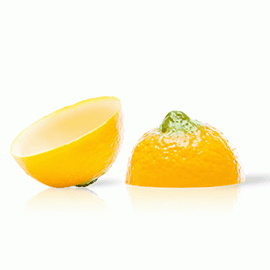 The exact origin of the Lemon Cake is unknown. It is
probably derived from the pound cake, which was first
baked in England around 1700. We used the lemon
cake with curd and merengue as a base and inspiration
to make a reinvention of it: we filled our new Chocolate
lemon cup with a lemon cake, lemon curd and fresh
mint and completed this surprising taste sensation with
a classic merengue as a topping.
NEW: Raspberry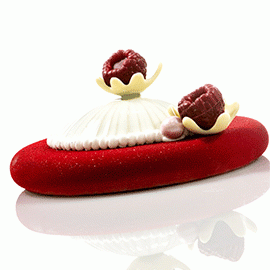 The Ideas of combination use of Dobla chocolate, a
raspberry and a splash, it will look like the raspberry
drop on a vanilla cream. Imagination is everywhere.
Chocolate orange lid & cup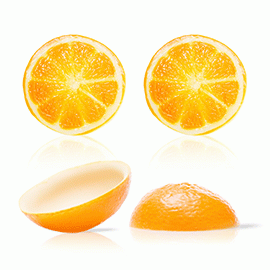 Naranja flan is a variation of the Spanish orange cake, a vanilla-orange custard possibly decorated with orange. The variation
that we made is lighter, but has an intense orange flavor that both refreshes the palate as well as satisfies a sweet tooth. Our
new Chocolate orange cup and lid enhance the taste sensation and provide a surprising impact. The cup allows a convenient
preparation of this recipe and makes an elegant addition to any bakery display.
Chocolate star anis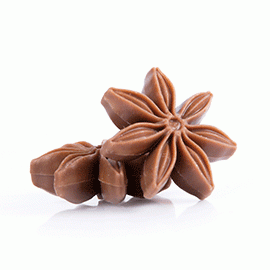 Not only in patisseries, a little surprise for cocktail that
vanilla and star anise are actually chocolate.
Chocolate blueberry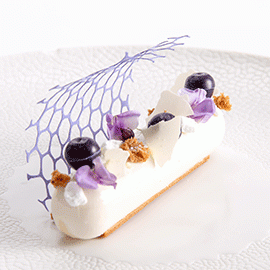 The origin of the cheesecake dates back to 1872, where a baker accidentally created
the modern day cheesecake by trying to recreate the French Neufchâtel. Inspired by this
baked classic, Graham Mairs created a dessert version and with a special blueberry jam
in the center. Our new Chocolate blueberry decoration indicates the flavor.
Chocolate butterfly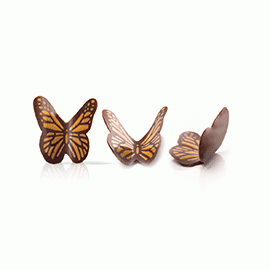 Ideas of bringing out the theme of flora and fauna. The
cake represents the big flower, with Dobla touch by
using butterflies, the cake garden concept had alive!