Mushroom 3D by Bart de Gans
Bart de Gans
Use a chocolate bark to create a Fall scenery together with our new Mushroom 3D
Halloween & Christmas 2019/2020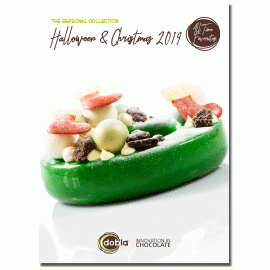 Need inspiration for the Halloween & Christmas season 2019/2020?
Billionaires eclairs by Graham Mairs
Celebration cake by Michel Willaume
Michel Willaume
The Celebration 3 colors is one of my new favorite decorations to create a spectacular cake for New Years.
Halloween dessert by Graham Mairs
Clock seal by Maurits van der Vooren
Halloween by Graham Mairs
Otto Tay
A simple touch will make your cake alive, imagination can bring you to everywhere.
Mini pearls & stars by Otto Tay
Snowball & Xmas baubles by Otto Tay