Coupe du Monde de la Pâtisserie 2019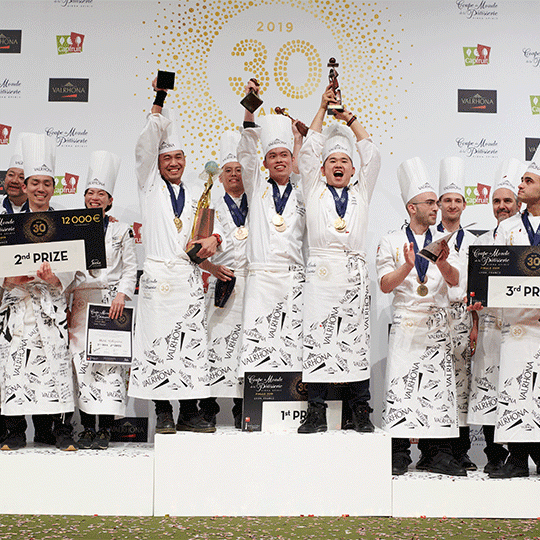 Team Malaysia wins Coupe du Monde de la Pâtisserie 2019. The World Pastry Cup in Lyon, France.
Dobla/Irca congratulates the Malaysian team with pastry chefs Otto Tay, Wei Loon Tan & Ming Ai Loi with this amazing achievement! They are the best team out of 21 teams from all over the world. 
The gold medal & prestigious title comes after years of hard work, & is very well deserved. Dobla/Irca is proud to be sponsor of this very talented & inspiring team.
Chef Otto Tay, will work together with Dobla/Irca to educate & inspire partners all over Asia Pacific. Everybody can from now on get inspired by a true world champion!
About Coupe du Monde de la Pâtisserie 2019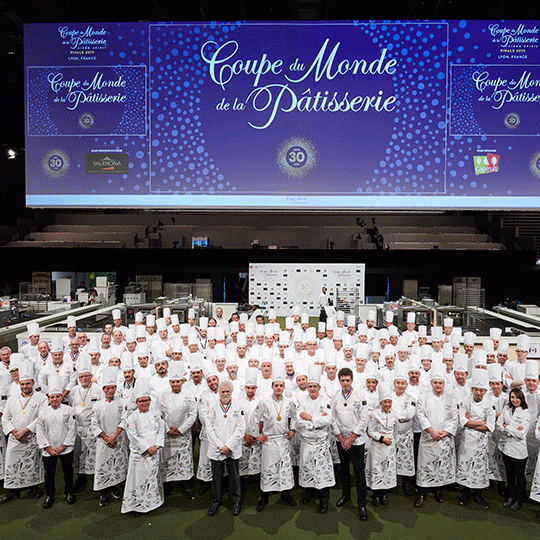 Every two years, the Coupe du Monde de la Pâtisserie brings together the very best young pastry talents in the world. After a selection process involving more than fifty national rounds and four continental selection events in Africa, Asia, Latin America and Europe, 21 teams have qualified for the final.
The 20th edition of Sirha – World Hospitality and Food Service event – will see fresh impetus sweep over the Coupe du Monde de la Pâtisserie 2019. It will be placed under the sign of savoir-faire, excellence, refinement, technical mastery, all more necessary than ever to create these true yet ephemeral works art.
The Malaysian team, consisting of Wei Loon Tan (sugar chef), Otto Tay (chocolate chef) and Ming Ai Loi (ice carver), became the winner of the World Pastry Cup held in Lyon. On its 30th anniversary, the competition makes history by placing Malaysia at the top of its podium for the first time with only a few points (11.904) ahead of Japan (11.862), which came in second place, and at some distance behind was Italy (11.083), in third place.
The most prestigious pastry competition in the world celebrates a long history showing that it is still capable of surprising us. Although the organization has not been a friend of changes during this time, for this edition it proposed the preparation of a plated dessert that is 100% of vegetable origin, a novelty that is seemly not the only one.
Dobla sponsored Malaysian pastry team wins prestigious Asian Pastry Cup 2018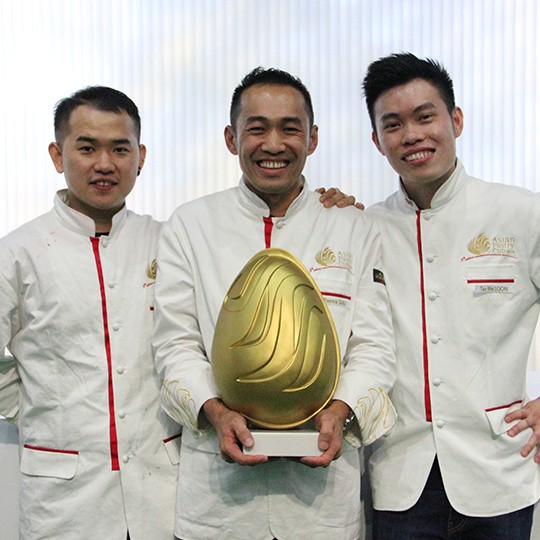 Two teams of Dutch chocolate decoration producer Dobla through to Coupe du Monde de la Pâtisserie in Lyon
Young top chef Otto Tay and his Malaysian team  mates of pastry chefs won the prestigious Asian Pastry Cup 2018, the largest 'live' pastry competition in Asia. With their impressive showpieces of chocolate and sugar, desserts and chocolate pastry, the team beat eleven other participating countries and made it to the big finals at the Coupe du Monde de la Pâtisserie 2019 in Lyon.
The team is sponsored by Dutch chocolate decorations producer Dobla. The Asian Pastry Cup 2018 took place during the international food and hospitality tradeshow Food&HotelAsia (FHA) in Singapore. Team China, also sponsored by Dobla, ended fourth in the competition and therefore will also be invited to participate in the Coupe du Monde de la Pâtisserie 2019.
About our Chef - Otto Tay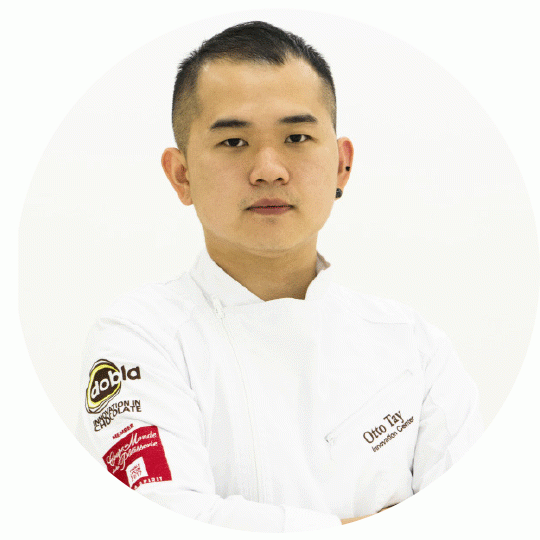 Despite his young age, chef Otto has spent years in the industry working and striving to improve his skills. All the hard work that he has put into his career has paid off as he was awarded as Most Outstanding Young Pastry Chef of years 2012 and 2013, Malaysia.
Otto has also participated in various competitions and has been awarded with a Gold Medal for his Chocolate Showpiece and Dessert Challenge of Culinary Malaysia FHM 2011.

Other than that, he was also awarded with the Most Outstanding Chocolate Showpiece in Asian Pastry Cup 2012. On top of this, in 2014 Otto and his team of pastry chefs were awarded as Champion of Asian Pastry Cup, while winning the Best Platted Dessert Award in Asian Pastry Cup 2014 personally.
Otto also has represented Malaysia in the Coupe du Monde de la Patisserie 2015 with him being the Team Captain and entering the competition for Ice Carving and finishing in the 4th place among 21 countries.
In year of 2017, Otto also has represented Malaysia in Top Patisserie in Asia and won the Champion tittle together with Best Entremets Taste and Best Sugar Showpiece Award.
Otto is a talented pastry chef who started career at Hotel Maya Kuala Lumpur, Malaysia. After that, Otto Tay joined the pastry kitchen of the KLCC Convention Center in Kuala Lumpur for several years. Through multiple competitions, Otto has skilled himself in the arts of fine pastry and baking.
Since 2015, Otto has been one of the leading teachers at the Academy of Pastry Arts in Malaysia. A very well known and respected pastry school in Asia.
From August 2017, Otto officially began as Pastry Chef in Vietnam at the Pastry Academy of Dobla Asia. Next to the management of the school, Otto Tay will play an active role in the development of the Asian market through demonstrations, trainings and professional explanation of product applications.