Horecava 2018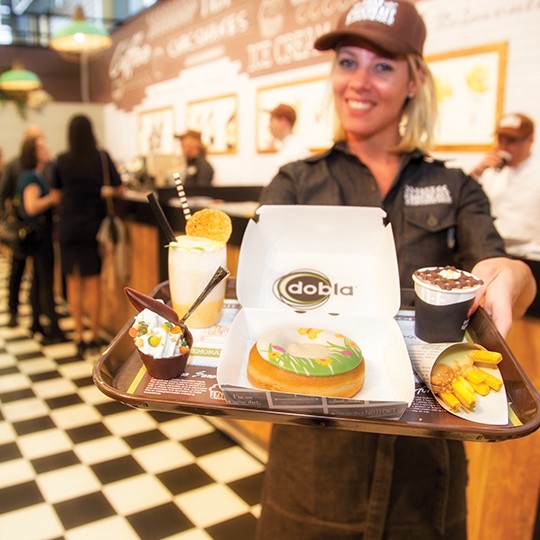 Amsterdam – The Fast Chocolate Experience by Dobla was launched during Horecava 2018 at the RAI. In collaboration with Horecava Dobla, grown up in chocolate decorations, showed how to put a traditional concept like fast food in a new, more upscale way. Under the slogan 'reinventing the classics', Dobla shed new light on fast food evergreens by presenting, among other things, Chocolate Fries, Chic Shakes and the Donut Topper. In the Fast Chocolate Experience, visitors were able to get a 'fast food meal' of chocolate on a tray. Dobla concluded the last trade day of Horecava 2018 with the first Dutch edition of The Dobla Pastry Battle. Six well-known chefs and patissiers entered the battle in the country's tastiest match. Jeroen Goossens and his student Ruben van Trigt won the first Dutch edition of The Dobla Pastry Battle.

Pastry Battle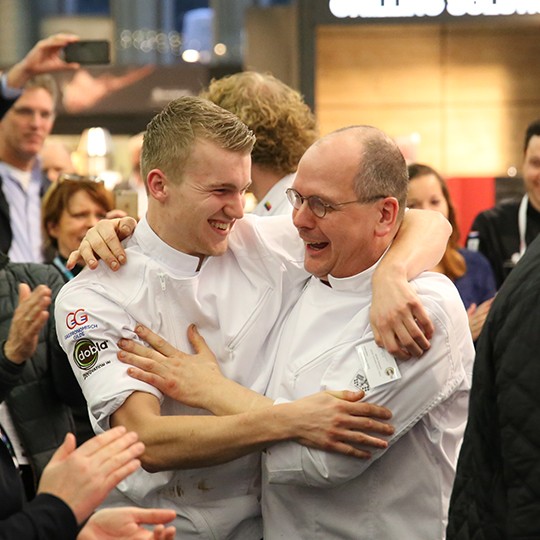 Six teams of renowned chefs and patissiers had to make their best St. Honoré cake, friandises and a Black Box assignment in three rounds, in the competition kitchens of the Gastronomisch Gilde. Each juror had to distribute a number of points each round. After three rounds, Jeroen Goossens and student Ruben van Trigt had the most points, making them the winners of The Dobla Pastry Battle NL Edition 2018. "Jeroen and Ruben have made extremely interesting and innovative chocolate decorations", according to the jury.
More attention for pastry
Harm Jansen, responsible for innovation and business development at Dobla: "The goal of the competition is to create a stage for pastry. The dessert is the last that the guest gets, and if that is of a high level, then the whole memory of the dinner will be magnificent. With The Dobla Pastry Battle we give the patisserie the attention it deserves! "
Contestants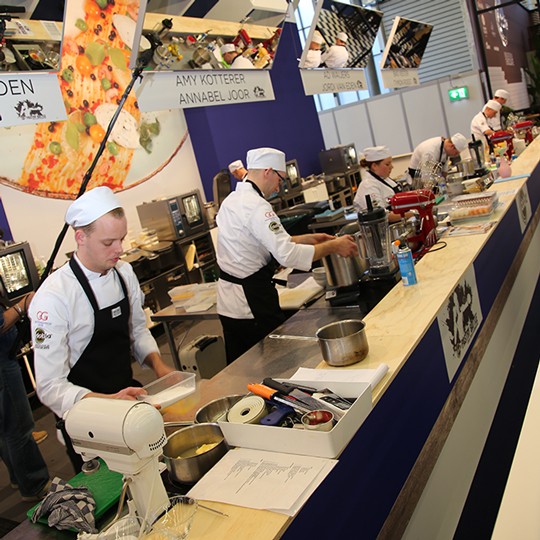 The participants in this first Dutch edition of The Dobla Pastry Battle were not the least. The six teams consisted of Ad Waijers & Jordi from Eden (Cingel College, Breda), Amy Kotterer & Annabel Joor (Hotel Okura, Amsterdam), Bas Vester & Tymon Roest (Restaurant Aan de Zweth, Schipluiden), Gert van der Heijden & David de Jong (Het Roode Koper, Ermelo), Henrik Wullems & Roelof Vuijk (Landrust Culinary & Patisserie Jarreau) and Jeroen Goossens & Ruben van Trigt (Jeroen Goossens Dutch Pastry, Almere).